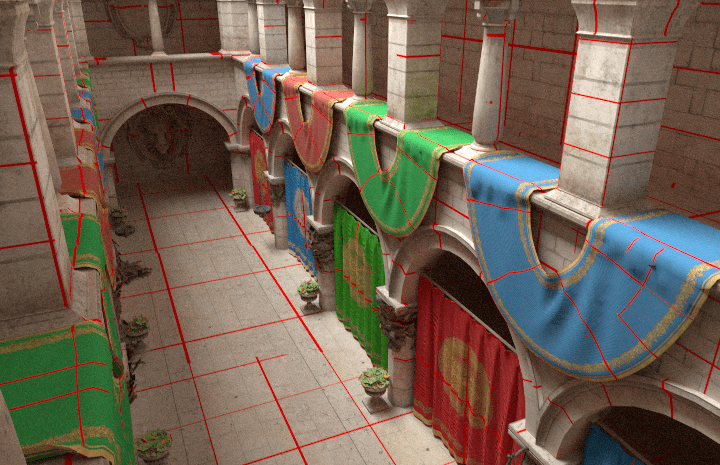 Path Traced
Virtual Textures
I wrote a thesis on combining virtual textures with real-time path tracing. At the time of writing this hasn't been done before. Combining the two is important because both are used to enhance graphical realism in real-time applications: virtual textures enhance surface detail and path tracing simulates physically realistic lighting. At the time of writing only rasterisers support virtual textures, which gives real-time path tracing a competative disadvantage.
While building a first demo, one of the biggest challenges was that virtual textures require level-of-detail detection. (This boils down to the question of how big a texture is needed to render a surface without compromising graphical quality.) Path tracers usually do not require this detection, so I collected relevant literature and implemented it myself. Also important was optimising virtual texture speed by exploiting the graphic card's computing power. This reduced rendering times from 20+ seconds for one 512x512 frame to "merely" seconds for a 1920x1080 frame.
Suffice it to say that further optimisation is desired to gain speed. Also graphics memory overhead currently outweighs the gains. The good news is that the virtual texture shows high graphical accuracy compared to non-virtual textures, and significantly reduces the required texture memory. This is promising and, if improved, could make real-time path tracing more appealing as an alternative to rasterisation.
This work is currently not available for public download. Please contact me for a copy.